The history of All Creatures Memorial Park begins with the story of two very special
animals that lived with two very dear friends about a quarter of a mile apart.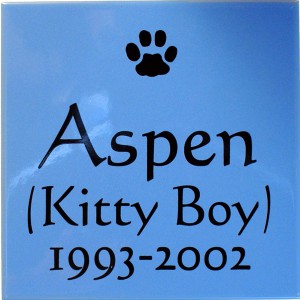 Aspen was born in an alley off 17th Street in Denver, Colorado. His mother was a feral gray tabby and his father, obviously, a slumming Siamese. By the time he was found, his siblings were dead and his mother was dying. He survived and grew into a large (12 ½ pounds) handsome boy. His first owner brushed and brushed him when he was tiny to make up for the loss of a mother's tongue. He loved to be brushed the rest of his life. He had the most beautiful large blue eyes. The ironic thing was he was mostly blind, probably from a lack of proper nutrition when he was very young.
My daughter was his second owner. When she moved and could not take him, Aspen came to live with us in New Mexico when he was about two years old. He came into a household with two large dogs, a German Shepherd and a Standard Poodle, who had never been around a cat. It took him about ten days to train them both. From that point on, they would all get up on our bed together.
Aspen was always a very mellow cat; other than an occasional episode of "crazy cat," he was pretty lazy. We did not know until shortly before he died that he had a greatly enlarged heart which was the result of a heart condition that got progressively worse with age. He did love to eat though, so I was concerned when, about two weeks before my husband and I left on a long trip to Europe, he started picking at his food. A couple of weeks into the trip we got a call saying that he had stopped eating and had been hospitalized with heart failure. I asked if they could keep him alive until I got home so I could be with him when he died. He was skin and bones by the time we arrived, but that day he started to eat just a bit. He lived another two months. Those months were very precious. It was as if he knew I was not ready to let him go. When he died he was just nine years old. He will always be my special "Kitty Boy" who taught me so much about living and dying.
About a week after Aspen's death Mary called to say Baci had gone in for tests…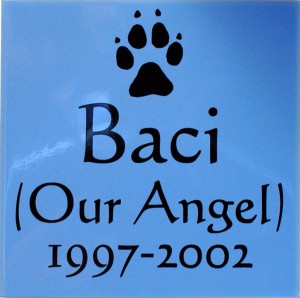 The story of my beloved black Labrador, Baci, my angel girl as I call her, really began several years ago with my earliest lab, Chaco. Chaco was the ultimate black lab in a way, an incessant and untiring ball-and-stick retriever and nearly fanatical swimmer. She was the heart of my husband's and my home, so when she passed away, there was a huge void to be filled.
As is often the case, once you fall in love with a breed, you want to continue to have other dogs of the same breed. Upon the advice of a friend, we decided to fill this empty space in our lives with two labs from two different litters – a black female who we named Baci and a chocolate male who we called Adobe.
From the beginning, Baci was the source of stability and strength in the relationship – a dog who could do no wrong and whose daily behavior was in fact "angelic." Adobe on the other hand was an interesting dichotomy of shy and tentative behavior combined with a wilder and prankster-loving side. As a young puppy he would hide under my nightgown and peer out at the world. In time, however, his playfulness emerged. He would slip into my closet and steal socks and prance out into our living room. Baci would always notice this activity and, if none of the humans were looking, she would seek us out to "tell us" about what was going on. Then we would all chase around (and ultimately bribe Adobe and reward Baci) to reclaim the sock. Yes, Baci was the pillar of stability!!!
Baci was wise beyond her time. All you had to do was look in those soulful eyes and know she knew so much. . . more than any of us. Yet she tolerated a great deal and packed so much into a short time. While Adobe went to Obedience School, Baci was the one who learned the lessons more quickly at home. I would come home from school with Adobe and I would show off what we had learned. Little Baci would look at us like "oh really." Then she would perform what we had spent all night learning and look at us with those wise eyes as if we were really incredibly silly.
The dynamics of these two dogs and my husband and myself were so endearing that we all expected years of bliss. Tragically, that was not to be. With no warning whatsoever, at the age of four and a half years, Baci suddenly became ill. We had left for Thanksgiving to visit my father and she started showing small signs of not feeling well. By the Monday after Thanksgiving, our precious friend that sat with each of us, and who represented all of our angels, was in major trouble. That Monday we went for an ultrasound and, true to her behavior, Baci found the good in it. As scared as she was from being upside down on a cold table, she kissed me and tried to be the one to make me okay. The worst possible news came — advanced lymphoma. We tried to deal with it in a medically correct manner, but it was not to be and the end came quickly.
Baci went through life and did everything with the spirit and wisdom of a timeless and old soul. She loved so greatly. All I know is she tried hard to stay here and give each of us her love and promise of love forever.
They are your friend, your partner, your defender, your dog. You are their life, their love, their leader. They will be yours, faithful and true, to the last beat of their heart. You owe it to them to be worthy of such devotion. — Unknown